Here's one of the entries for our Valentine's Day Couples Contest!  Jennifer Smerick and Dawndee Carver are cosplaying as Drocell Kainz and William Spears respectively from Kuroshitsuji.  Jennifer used our Aphrodite Wig Autumn Orange for her Drocell cosplay!  Although Dawndee did not use a wig from EpicCosplay, we  recommend styling our Hermes Wig in Black for a William T Spears cosplay. Read on to learn more about these cosplayers!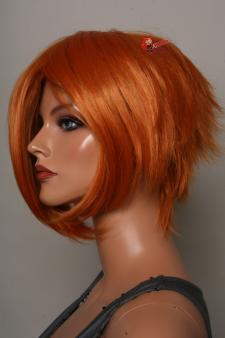 -What inspired you to do these cosplays?
I love the series Black Butler, and had always wanted to cosplay a character from it.  It's a very dark, but sometimes amusing story…and this picture is somewhat of a departure into the light side of it.  The two characters would have probably never met, but we came up with a way to force them to meet, which is fun.  It's all about using creative license… and bending the rules of believability just a bit.
-What got you into cosplay?
Some friends of mine got me into the idea, but I was a natural since I have always loved to dress up for Halloween.  I would do so every day, if I could.  It's a chance to just be somebody else for the day.  My partner here, Dawndee said that watching videos on YouTube gave her the idea to cosplay, first.  There are some great videos out there with some really amazing cosplayers, and it always looks like a good time.
-Why do you love cosplay?
There is a kindred spirit among most cosplayers, and people that you've never met will rush up to you and give you hugs.  It's an easy way to break the ice, because you are a walking conversation piece.
Posted by Epic Cosplay on

Posted on