We've got another Epic Show Us Your Moves to show you! Here we've got Margot La Rue and her friend rocking out wigs from our Aphrodite line for their Hitachiin twins cosplays from Ouran High School Host Club! They specifically used our Aphrodite wigs in Autumn Orange for their cosplays. Read on to see pictures of their costumes, the wigs they used, and to read their epic story!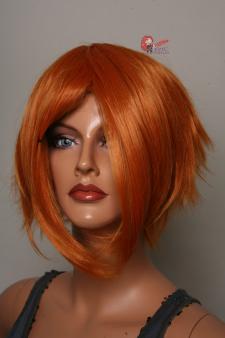 I am Margot la Rue (in the green), 23 years old and a Fashion Design student at Columbia College Chicago. I am cosplaying with Birde Williams (in the blue).
The Photos are by Fotaku,(you can find him at Fotaku.com) with full permission for me to use them here.
We are cosplaying the Twins from the Summer Vacation episode of Ouran High School Host Club.  We used the Aphrodite- 15″ Autumn Orange Layered Short Cosplay Wig.
My cosplay debut was in February of 2010: My friend Ellie was extremely fond of cosplay and talked about it often. I was immediately curious. Though a bit intimidated by the people I had seen cosplaying online, I started with a simple costume. I had some experience sewing, but there were gaps in my knowledge. I also did not have access to a sewing machine. Since I did not get the chance to use a sewing machine
for a while, I would make my costumes by hand. When I moved from Texas to Chicago for school, I started taking the Costume Construction classes offered in the theater department of my College. They have
improved my sewing ability and given me confidence to take on bigger projects.
We decide to do the summer episode outfit for the twins because we live very far apart and making identical costume would have been hard.
My favorit thing about Epic's Wigs is how soft they are.  As soon as I take them out of the package I run my fingers thru them for a while.
My next Cosplay will be Zatanna from the DC Ame-comi series. I already Have my Epic Cosplay wig for this cosplay ready to go.
Posted by Epic Cosplay on

Posted on