Here's one of the entries for our Valentine's Day Couples Contest!  Scarlet and Bizarro are cosplaying as Gijinka Persian and Giovanni from Pokemon.  Although neither cosplayer used a wig from EpicCosplay, we have some recommendations that would work well for each of those characters. For a Gijinka Persian cosplay we recommend looking at any of our caramel blonde colored wigs. For Giovanni, we recommend styling our Hermes Wig in Light Brown! Read on to learn more about these cosplayers!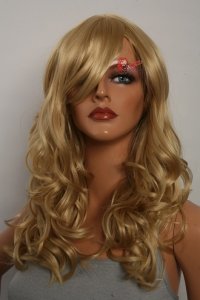 -What inspired you to do these cosplays?
Both of us enjoy Pokemon and this was at the height of the gijinka Pokemon trend. He already had a Giovanni in his closet and I joked about creating and designing a Persian based on Hollywood glamour and glitz. Since Giovanni always had a Persian around him all the time, I decided to make the Persian cosplay. During the 2009 Academy Awards, I was working on the dress while watching the show in my living room. Given that Giovanni is always in suit and tie, a Persian in an evening gown is fitting.
-What got you into cosplay?
At Anime Expo 2000, almost everyone was cosplaying. I loved what everyone was wearing and I wanted to be a part of it all. I was always impressed with what costumes my friends were making and I wish I had the time out of my busy school schedule to learn. People were having fun dressed up as the characters they loved. This was at the height of mahou shoujo cosplay – almost everyone either had Magic Knights Rayearth, Sailor Moon, or Card Captor Sakura in their cosplay repertoire. I was very impressed and I wanted to be a heroine for a day.
-Why do you love cosplay?
I love cosplay because it encourages you to do something positive with the nerdy things you love. Some people make amvs and some people make fan art, cosplay certainly has changed my life around. I picked up sewing skills, but I'll admit that I still have a lot to learn and I also made some awesome friends along the way. The art of making your own clothes is really fun and it's my way of stress relief. Wearing cosplay at cons – particularly when you're cosplaying from something obscure and someone notices what it is – is a very rewarding experience. There's a lot of fun to be had and a lot that you can learn about yourself.
Posted by Epic Cosplay on

Posted on