In our final entry of the Human Sushi Cosplay Fushigi Yuugi series we feature the Tasuki cosplay from their group! They used our Chronos Wig in Autumn Orange to and styled it to achieve the perfect look for this cosplay! Read on to see pictures and discover what they did to style this wig to make it look exactly like how they needed it to!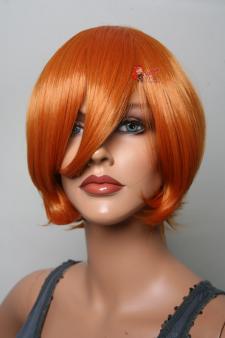 Tasuki from Fushigi Yuugi –
WIG: 14″ Long Bang Autumn Orange Layered Cosplay Wig
Styling time: 1 hour
Styling notes: Pretty much just looked in a mirror and started chopping big chunks then refined with more precise angled cuts to create the spikes. Used Abby's head while I cut the back to create the rockin' mullet. Used GOT 2 B hair glue and spray for solid hold.
Personal thoughts: The wig was fantastic! Really thick and vibrant. I loved the color, it really brought the costume together. And the wig cap was just the right size, not too big or too small, I hardly needed any pins to keep it on! 🙂
Photo by: Sweet Sensation Photography
Posted by Epic Cosplay on

Posted on