EpicCosplay Wigs: Theia in Classic White and Apple Red Mix for genderbent Shouto Todoroki cosplay
This genderbent Shouto Todoroki cosplay gives the Icy Hot hero-in-training a cool feminine style. My Hero Academia fans know Todoroki as a reserved yet extremely capable U.A. High School student with a tragic backstory. With his quirk, Todoroki commands ice with one side and fire with the other – visually corresponding to his unique hair colors.
Designing a genderbent cosplay leaves so much freedom for creativity. But, it's also important to make sure iconic details don't get lost along the way. Featured cosplayer Chloe did a fantastic job in both areas! This genderbent Shouto Todoroki cosplay is fresh but immediately recognizable. Of course, the hair is a great example. Chloe used a longer and more elegant style, yet kept Todoroki's trademark two-tone color.
Want to learn more about this great cosplay? Chloe talks a little bit about the wig design and costume construction in the quick blurb below. After that, keep reading to learn about the Epic Cosplay wigs behind this genderbent Shouto Todoroki cosplay style.
Cosplayed at Otakon 2018
Wig is actually two of the Theia, one in Classic White and one in Candy Apple Red, cut down the middle and spliced together. I made the whole costume myself except the shoes!
Photos by Marlon David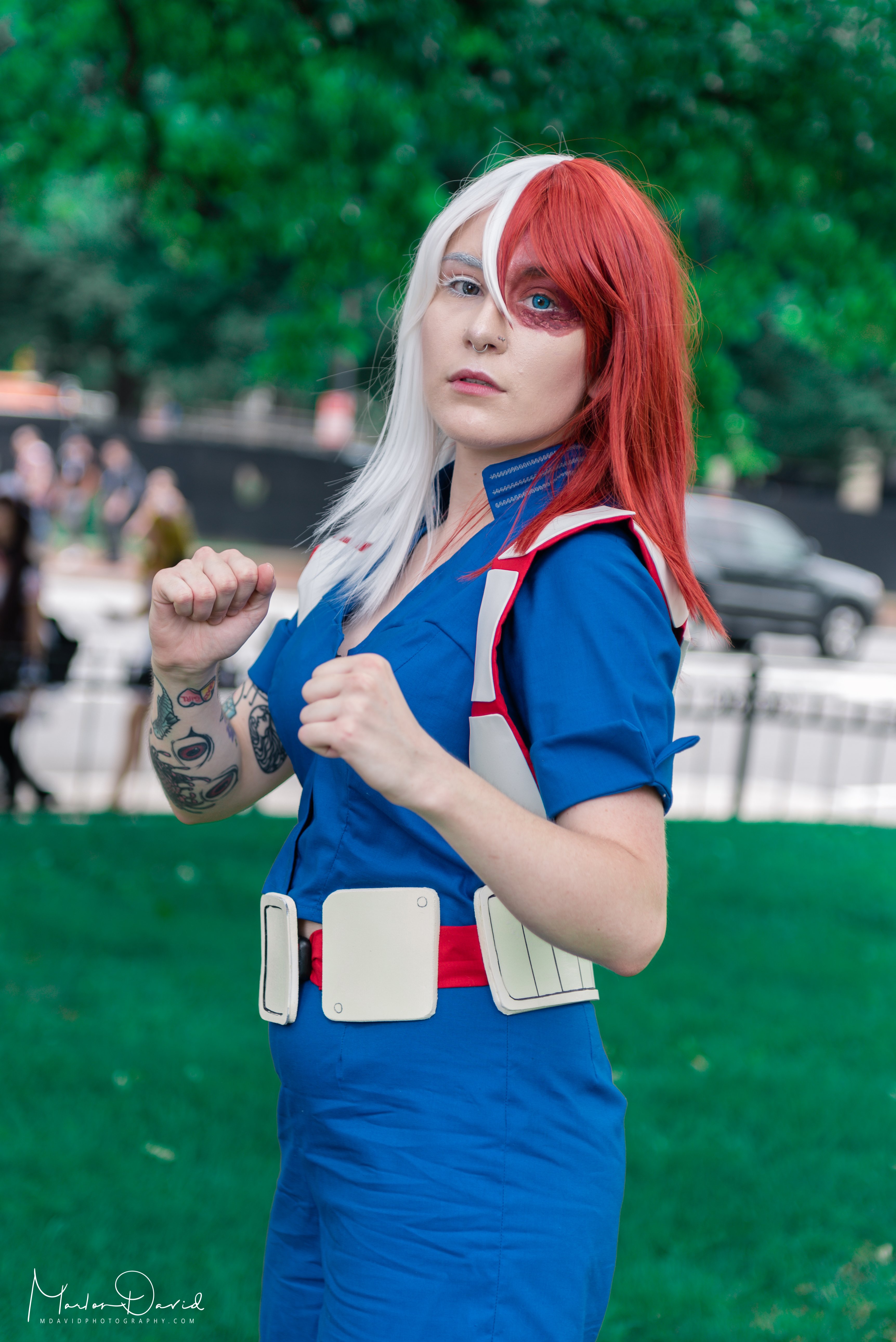 Genderbent Shouto Todoroki Cosplay Wig
As Chloe mentioned above, this distinctive look is the result of splicing together two Theia wigs from Epic Cosplay. Theia is a straight medium-length wig that measures to about 20" with bangs pre-cut to 7". It's a very manageable and versatile style. Moreover, it's durable enough for major modifications like the splicing technique used here.
Curious about trying this strategy for your own genderbent Shouto Todoroki cosplay? The Epic Cosplay YouTube page has a quick wig splicing tutorial to help. This method works for any Epic Cosplay wig. Or, if you just want to insert a few stripes of color, perhaps the individual weft extensions from Epic Cosplay would serve as a convenient solution.
Posted by Epic Cosplay on

Posted on