Gina sent us an entry featuring her Bulma cosplay from the Dragonball series! For this cosplay she used our Hestia in Vocaloid Green! Check out her entry below!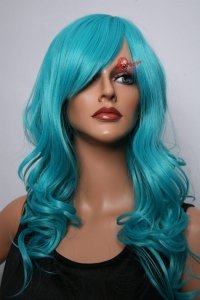 Hey guys! Here's my entry for your Show Us Your Moves! contest!
This is my cosplay from Wondercon 2013, as Bulma from Dragonball, in the first outfit she appears in, when she first meets Goku.
The wig I chose for this cosplay is your Hestia wig in Vocaloid Green. I chose this wig because it was the right shade of blue/green that I needed for the character. Bulma's hair in DBZ appears more blue, but in the early episodes of Dragonball, it does seem to have more green tones in it.
This wig was a great purchase/decision for me, because it looks a lot more natural than I would have expected. Besides the colors, the way it sits on my head and the body to it is just perfect. I used to see the Epic Cosplay booths at conventions and assume that you guys were probably expensive due to the quality, so when I finally checked out your site and saw the prices, I was blown away by how affordable the wigs are.
My first convention was in 2009, but I didn't start going to conventions regularly until 2012. I never cosplayed until I started to realize that I was missing out on something when I would go to conventions and see all of the other cosplayers. I used to geek out over the characters I saw that I loved, and I guess I decided that I wanted to be a part of that!
I've been cosplaying since San Diego Comic-Con in 2012, and my first cosplay was Black Canary.
I chose to cosplay as Bulma because I started to get back into Dragonball Z again. It was one of my favorite shows as a kid. I came across another cosplay of this character and go so inspired, and eventually decided to make this costume almost completely from scratch.
The dress is 100% from scratch. Instead of just buying a big pink tee shirt, I wanted to do this all from scratch so I could get the right shape and not look too boxy. This might have been the hardest part, since I've only taken two apparel design classes in high school (which didn't cover much for making clothes), and I'm not a costumer at all. This might be why I love cosplay so much, because it challenges me to be more creative and learn new skills.
The shoes are also a pair of converses modified and covered in different fabric by me. The scarf and leg warmers are a bigger scarf taken apart and modified by me as well. And the bag is made completely by me.
I love the community that cosplay is a part of. I've met so many amazing people through conventions and cosplay, I feel extremely lucky to be part of the community. Cosplay also gives me the confidence that I don't have in my everyday life, and that means a lot to me.
As for future cosplays, I have a bucket list of many that I want to accomplish. The main two I'm brainstorming right now are Captain Marvel Carol Danvers from Marvel Comics and Vegeta from DBZ.
Thank you guys for the opportunity to enter Show Us Your Moves! contest! It feels pretty cool to share my story with you guys, considering that you contributed to one of my proudest cosplays. Thank you again, and I'm looking forward to purchasing more wigs from you guys in the future!
Posted by Epic Cosplay on

Posted on