Here's Megan's awesome Tira cosplay from Soul Caliber V! She utilized our straight ponytail wig in silvery grey and styled it to achieve the look that she needed. Check out pictures and her story below!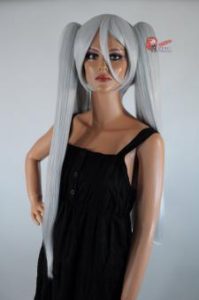 Name: Megan Derwich
Location: United States
Cosplay: Tira
Series Name: Soul Calibur V
Style Name or link to wig:https://www.epiccosplay.com/40-silvery-grey-miku-style-straight-ponytail-clipon.html
Description of why you chose to cosplay that character: Tira is my favorite character of all time. Her fighting style to her personality. When the game released her as a character all i could think of is "oh god i hate her" but then i played as her and saw her story line. Its hard not to feel bad but at the same time all you can think is what a little physchopath. But Cosplaying her gave me the want to lose 10lbs and still losing. I am proud to show off these pictures of this cosplay.
How you went about buying or creating the costume: I call this my obession. I get about 2 months off of school for holidays a year and I generally spend them working or doing something somewhat relaxing. So for those two month literally all of my funds went into making this costume. the only thing that was bought was the base of the shoes (the actual shoe part), The actual shorts that are connected to the hand made leggings and the wig (which ended up getting hand died anyways). ever thing else was hand made by me. I had help from the great people trying to get this costume to look propotional to my body type and not look weird. But i started with a ripped shirt for the top and cut the fabric to match what i wanted. Took a long sleeved shirt to make the shrugs pattern, then the leggings i attached to the shorts. The bones are all hand made out of clay and then hoop is a fiberglass project that I did at work one day.
Posted by Epic Cosplay on

Posted on