Here's one of the entries for our Valentine's Day Couples Contest!  Kristina and Kenny are cosplaying as Terra and Locke from Final Fantasy VI.  Although neither cosplayer used a wig from EpicCosplay, we have some recommendations that would work well for each of those characters. For a Terra cosplay we recommend using our Chronos Wig in Jade Green and adding our 20″ Curly Ponytail Clipon in Jade Green (discontinued). For Locke, we recommend using our Apollo Wig in Natural Blonde! Read on to learn more about these cosplayers!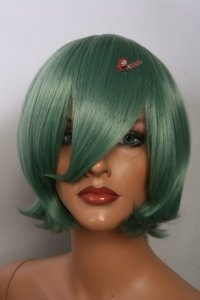 -What inspired you to do these cosplays?
Final Fantasy VI was both our favorite Final Fantasy, and we absolutely love Amano's artwork, so we wanted to give it a go together. On our first date, this was the cosplay he asked me to complete with him for the following convention.
-What got you into cosplay?
Kristina- When I was first introduced to cosplay, I was shown what it was by a picture thread on a gaming forum of the best Final Fantasy cosplays. I have never heard the term before, but when I saw the pictures, I immediately fell in love with it. I wanted to show off my favorite characters too in an artistic way. Learning how to sew and going to my first convention got me hooked to cosplay for good.
Kenny- Cosplay started early in my life when my mom got together a mostly-homemade Superman and Batman costume for me when I was around the age of 5. Through my love of video games, anime and discovery of cosplay, I was hooked after my first true time cosplaying Cloud from Final Fantasy VII Advent Children at a large midwestern anime con when I was 17.
-Why do you love cosplay?
Kristina- It allows me to break out of my timid, reserved shell for a change and gives me a creative outlet for my not so creative career. I love nerding out with fellow cosplayers on why we love particular characters or series as well, and cosplaying tends to break the ice during that sort of situation. It also brought me closer to my sister because we bond during our "cosplay days" together. Overall, cosplay is the reason why I met my fiance Kenny 5 years ago, something I will be forever grateful for.
Kenny- In entertainment, I'm all about characters. I've always loved doing impressions, and cosplay is just a visual/tangible way of impersonating a character you love. Besides the high of bringing a character to life that not only you love, but that other people (even if just one!) recognize and love, being able to share something that has become a passion – a part of who you are – with the love of your life is a most invaluable thing to experience. One of the first biggest events my fiancee and I shared together, was participating in a masquerade as matching characters. So in short, I cosplay for love of characters, but most importantly in honor of the love that has grown between Stina and I.
Photograph is credited to DeathCom Multimedia (2009)
Posted by Epic Cosplay on

Posted on