Here's one of our entries for our Valentine's Day Couples Contest! Joji-kun and Smidge are cosplaying as Flynn Rider and Rapunzel from Disney's Tangled! While neither of these cosplayers are wearing our wigs we have some styles great for cosplaying as these characters! For a Rapunzel cosplay we recommend that you use our Asteria Wig in Caramel Blonde and style it with flowers for Rapunzel's look. For a Flynn Rider cosplay we recommend styling our Hermes Wig in Dark Brown. Look on to see some more about their cosplays!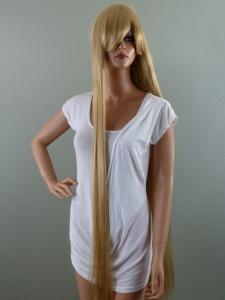 What inspired you to do these cosplays?
I do little kids' birthday parties and I got my reaf-life boyfriend to be my Flynn Rider for one.
What got you into cosplay?
My friends telling me I should do Rikku from Final Fantasy X. I don't advise something so detailed as a first costume!
Why do you love cosplay?
Because you can be whoever or whatever I want! One day, I'm a Moon Princess and the next day I'm Iron Man. Love it!
Posted by Epic Cosplay on

Posted on