Hey there!  We have another entry for our Valentine's Day Couples Contest!   We have Caetuna and Maverick as Sakura and Syaoran from series Tsubasa Reservoir Chronicles! While neither of these cosplayers used our wigs we have some recommendations for styles to use in case you are looking to cosplay as either of these characters in the future. For a Sakura cosplay we recommend styling our Chronos Wig in Ash Blonde. For a Syaoran cosplay we recommend our Apollo Wig in Light Brown.  Read on to see more about these two cosplayers!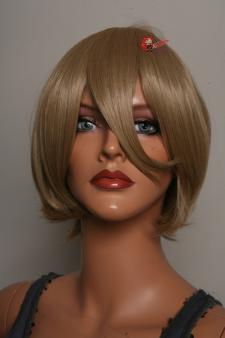 – What inspired you to do these cosplays?
What got us into these cosplays were the characters and the story plot of TRC.
The chemistry and story between Sakura and Syaoran was just so tragic and yet
at the same time it was pure and bitter sweet. Since TRC was a rather light and
somewhat happy kind of plot we decided to change things up a bit and tried a
rather more dark and gothic kind of feel to the characters instead. The photoshoot
itself took us a while to plan out and the weather itself was another issue but
we managed to pull through with the combined efforts of our wonderful photographers
Hai Wei, Alex and Tony as well as our wonderful helper Colleen. We couldn't have done it
without all of their patience with having to deal with two wacky cosplayers and their
help. This was also Maverick's first ever cosplay and photoshoot so we both took of bit
of time getting the chemistry between our cosplays right
– What got you into cosplay?
Caetuna- I first started cosplaying when I was 13 but I started getting into cosplay when I was 14 or so. At
that time I did not know it was called Cosplaying yet, I thought it was dressing up. XD My first cosplay
was Lunamaria Hawke from Gundam Seed Destiny.
Maverick- The was the whole idea on dressing up as your favorite characterfor a day and living the life, the got me
interested initially. Caetuna helped got me started into cosplay. She got interviewed by the newspapers
regarding cosplay and seeing at how it was just so interesting and darn cool I decided and told
myself "why not I give it a try yeah?" So I messaged Caetuna about it and I started it out with
her help. Syaoran from Tsubasa Reservoir Chronicle from our photoshoot was my first cosplay.
– Why do you love cosplay?
We just love the concept of dressing up as our favorite for a day, and just being them.  It also gives us a chance to express ourselves and meet new people as well.
Posted by Epic Cosplay on

Posted on