Meagan sent another amazing Show Us Your Moves Submission! This time she sent us her Anya Stroud cosplay from Gears of War 3! She utilized our Chronos wig in natural blonde to complete her look. Check out pictures and her story below!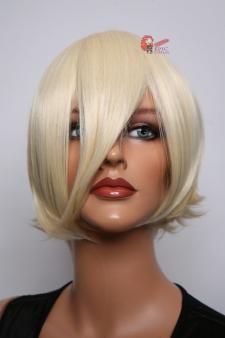 Character: Anya Stroud from Gears of War 3
Wig Used: Lelouch Style Short Cosplay Wig in Natural Blonde
About the Cosplay:
-Basic About:
All of the armor pieces are handmade from EVA foam floor mats and lit with various types of LED string lights on battery packs.  Any screws on the armor are actual 1/4″inch screws and bolts.  The boots alone (which are unfortunately not pictured) had at least 75 screws, each. Pants, COG tags and tank shirt were purchased, however the shirt was customized (hand dyed the appropriate color and then iron-on letters applied). The Lancer Assault Riffle is a converted NERF Stampede.  I decided to do this instead of purchasing a replica Lancer for two reasons 1-Cost, and 2-I'm very short and those replica Lancers look very cartoon-ish next to me.
-How Long/What Got You Into Cosplay:
I got into cosplay a little over 2 years ago when some friends asked my Husband and I to tag along to Anime Central with them.  I'm rather shy, but love having my picture taken, so cosplay works out pretty well for me!
-Why This Character:
The Gears of War series is one of my biggest fandoms and Anya Stroud has long been one of my favorite characters.  Always supporting Delta through everything and being generally amazing in the books.  When Gears of War 3 came out and they gave Anya armor and a Lancer, I was thrilled.  They changed Anya from someone behind the scenes to someone that was essential to the action.  I loved it and I needed to cosplay
her!
-Most Difficult Aspect:
This was my first foray into Dremel sculpting EVA foam floor mats into armor pieces.  It was a time consuming experience, all in all it took about 4 or 5 months to complete.  There was a lot of trial and error involved, though I found some baseline information on how to do
it by browsing forums.  My method for putting the chest piece together, alone, got scrapped 3 times.  However, I was thrilled to finish it and am pleased to have foam armor sculpting in my repertoire of costume-making skills.
-Future Planned Cosplays:
Merrill from Dragon Age 2; Tali'Zorah from the Mass Effect Series; Princess Bubblegum from Adventure Time; Lilith, Maya or Gaige from the Borderlands Series (maybe all three); Trance Kuja from Final Fantasy IX
-What I Love About This Wig:
I loved, with this particular one, that the cut was perfect for Anya. I had very little styling to do, and it mostly revolved around pinning the fringe with bobby pins so the wig would hold out of my face correctly.
Posted by Epic Cosplay on

Posted on