We've got another Show Us Your Move Submission! Kie sent in this EPIC picture of her Chihaya Kisaragi cosplay from The Idolm@aster! She utilized our Nyx wig in Blue Black Fusion to finish off her look! Check out pictures and the story below!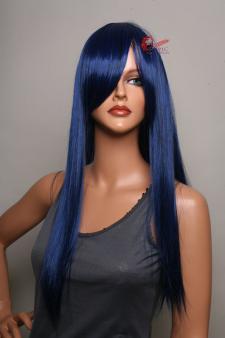 Photo:
https://img.photobucket.com/albums/v468/Nekohime/BenChihayaEdit2.jpg
Cosplay by Kie https://www.facebook.com/kittyprincesskie
Photo by AgentSakur9
https://www.facebook.com/pages/AgentSakur9-Photography/169215238585?ref=ts&fref=ts
Character: Chihaya Kisaragi from THE IDOLM@STER. Costume: Starry in
Binary Star R&B
Wig: Nyx in Fusion Blue, with the bangs trimmed
https://blog.epiccosplay.com/fusion-blue-black-heartlilly-style-long-cosplay-wig.html
I'm a cosplayer from California, USA, and have been cosplaying since 1999.  I have been a gamer all my life and started watching anime as a young teen.  I have always liked dressing up too, so when I learned about cosplay and conventions, I knew immediately that I wanted to take part in the fun.  These days I am probably best known for my Chihaya cosplay from THE IDOLM@STER.  To me, THE IDOLM@STER is a cosplay girl's dream — more than a dozen cute idol girls to suit all personalities plus endless supplies of songs to learn and outfits to make.  When I started cosplaying as Chihaya no one knew the game, but it has been rewarding over the years watching the fandom grow and having more and more people recognize my cosplay, especially after the release of the IDOLM@STER anime.
I run the cosplay dance group Angel Hearts, known throughout California for our IDOLM@STER performances.  Recently we won Best in Show at AniMegaCon with our light-up Starry outfits, which I programmed and designed the circuits for.  These costumes took months of grueling hard work and a lot of problem solving, but we worked together and I am so proud of my girls!  The moment you are standing on stage shining in front of everyone makes everything worth it.
Our group does more and more shows every year, and though the costume may be different I am always wearing the same wig!  As my signature cosplay, one I wear often and have to dance half hour shows in, I need a high quality wig that will last through all the abuse and still look good.  I was never happy with my Chihaya wig until I discovered EpicCosplay Wigs.  The fibers are so silky!  No matter how much I mess it up I can easily brush it out, and it looks good as new!  It doesn't tangle up as much when I'm on stage, and I can easily fix it up afterwards.  In addition, I am a huge fan of the center-part skin top wigs, which are so hard to find these days.  With so many colors to choose from, I would definitely recommend Epic Cosplay Wigs to anyone looking for a good wig.
~Kie
Posted by Epic Cosplay on

Posted on