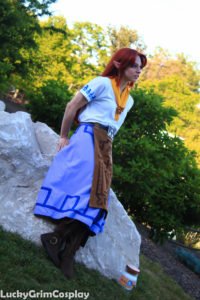 Check out Artemis Moon's story below about how she cosplayed Malon from the Legend of Zelda franchise! She utilized our Nyx cosplay wig in Dark Red. You can find a picture of it below and will be linked to the wig by clicking on that picture!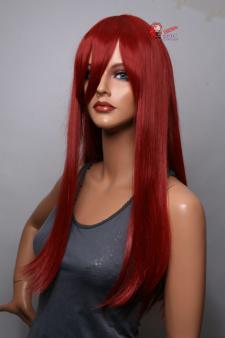 Without further ado, here's Artemis Moon's story!
What got you into cosplay?
I've been cosplaying for 4 years now but have been interested in the hobby since high school. I somehow stumbled upon deviantART while I was looking up pictures for Final Fantasy X and VII and found wonderful pictures of people cosplaying the characters. I tried to convince my mom and grandma to teach me how to sew but time didn't permit so once I was able to support myself, I bought a sewing machine and taught myself how to sew.
Were there any particular reasons you selected this character?
This particular character, Malon is my favorite character from the Legend of Zelda franchise. Problably my favorite character period. Most people would say she's pretty minor in Ocarina of Time but I love her personality and her design. Also she's a farm girl which I associate with very much since I grew up near many farms.
What would you consider the most difficult part of this costume?
The most difficult part of the costume that I made was the Bowser-esque Brooch she has on her yellow scarf. I am by no means artistically inclined so working with clay and creating smooth shapes is quite difficult for me. It took me about 5 tries to get it semi-perfect.
What cosplay would you like to do in the future?
Right now, I'm working on Kyoko Sakura from Madoka Magica and Kenshin's Samurai X outfit.
What's your favorite part about cosplaying?
I really enjoy the people I meet and the friends I make because without this hobby I'd still be that awkward dorky kid that barely says anything. 🙂
What do you like about our wig?
I adore everything about EpicCosplay wigs. From the fit to the  super soft fibers you can't go wrong. Plus the color is so rich and beautiful.
Posted by Epic Cosplay on

Posted on