Chaka was awesome and sent us a Show Us Your Moves submission for her Storm cosplay!  Check out her pictures below! She utilized our Hera wig in Classic White to complete her look. If you're interested in looking at that wig, click the picture below that we've provided which will link you straight to that wig on our website!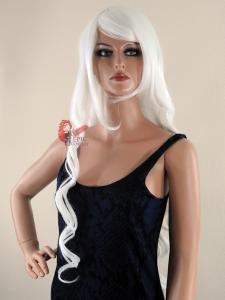 My name is Chaka. For your Show Us Your Moves contest, I have chosen my most recent costume – Storm from X-Men.
What got you into cosplay?
I think cosplay is a logical progression for kids like me who had an unhealthy obsession with playing dress up. In high school I was into anime, manga, cartoons, comics and theater. To be honest, it was only a matter of time before I started cosplaying.
How long have you been cosplaying?
My first cosplay was Misa Misa from Deathnote at my first real con, A-Kon 2008. I just celebrated my 5th year anniversary at A-Kon this year and it's been really cool to look back at how far I've come!
Were there any particular reasons you selected this character?
Storm has always been one of my favorite X-Men. She's beautiful and deadly, two things I have always aspired to be.
What would you consider the most difficult part of this costume?
The hardest part construction wise was lining the cape. The black part is a two way stretch fabric and the gold part is crepe back satin. I'm very new to sewing, and stretchy material is evil. It took a couple tries to get right! It's pretty easy to wear…but it has some, ahem, crotch snaps that took some convincing to stay closed!
What cosplay would you like to do in the future?
My upcoming costumes for Dragon*Con are classic Harley Quinn and Ame Comi Wonder Woman – so look for a long black wig order from me in the very near future 🙂
What's your favorite part about cosplaying?
By day, I'm a web producer at a local TV news station. My days are filled with breaking news alerts, shootings, robberies and press conferences. But by night I can be whatever I want to be – from superhero to Disney Princess, and I love that. I love having a closet full of costumes and the ability to assume an alternate identity at nearly a moment's notice. My cosplay page on Facebook is https://www.facebook.com/PrincessMentalityCosplay
What do you like about our wig?
Epic Cosplay wigs are always so thick and full. When I started putting Storm together, I knew I'd need an Epic Cosplay wig to complete the look. I bought your 40″ White Curly Wavy Extra Long wig and all day long at the con was once again surprised by how little tangling I had to deal with, even thought it's such a long wig! Plus the price was right and the shipping was low – some wig companies want to charge an arm and a leg to ship a wig, but Epic Cosplay has always had reasonable shipping costs with LIGHTENING FAST speed. I bought the wig on Monday and it was on my head by Thursday afternoon. You can not beat that, you just can't.
Posted by Epic Cosplay on

Posted on