Cosplayer:
Sophia Heartwell
Instagram:
SophiaHeartwell
The courageous Zora Champion takes on a human form with this Mipha gijinka cosplay as worn by Sophia Heartwell.
In the Legend of Zelda series, Zora are an aquatic race of humanoids recognizable by their fish-like appearance. Their colorful bodies feature scales and flowing fins, and their heads often mimic the shape of various fish. In Breath of the Wild, most Zora seem to take inspiration from sharks or dolphins.
This fantastic Mipha gijinka cosplay forgoes all that, reinterpreting many of those Zora traits within the details of an intricate kimono. The red base echoes the color of her scales, the sash is replaced by an obi that bears the mark of Divine Beast Vah Ruta, and the long hood ends in a fishtail shape.
Of course, the best way to complete any gijinka is with a wig that matches the character. Below, Sophia Heartwell gives a few details about the wig used in this Mipha gijinka cosplay:
Notes from the Cosplayer:
EpicCosplay Wig:  Nyx in Apple Red Mix for Mipha Cosplay Breath of the Wild
I needed a sit in wig while I waited for mine to be shipped. And this with met all my expectations. It's nice and full. And was easy to put into braids.
Photo By – Mika Bridges Photography
ColossalCon Ohio 2018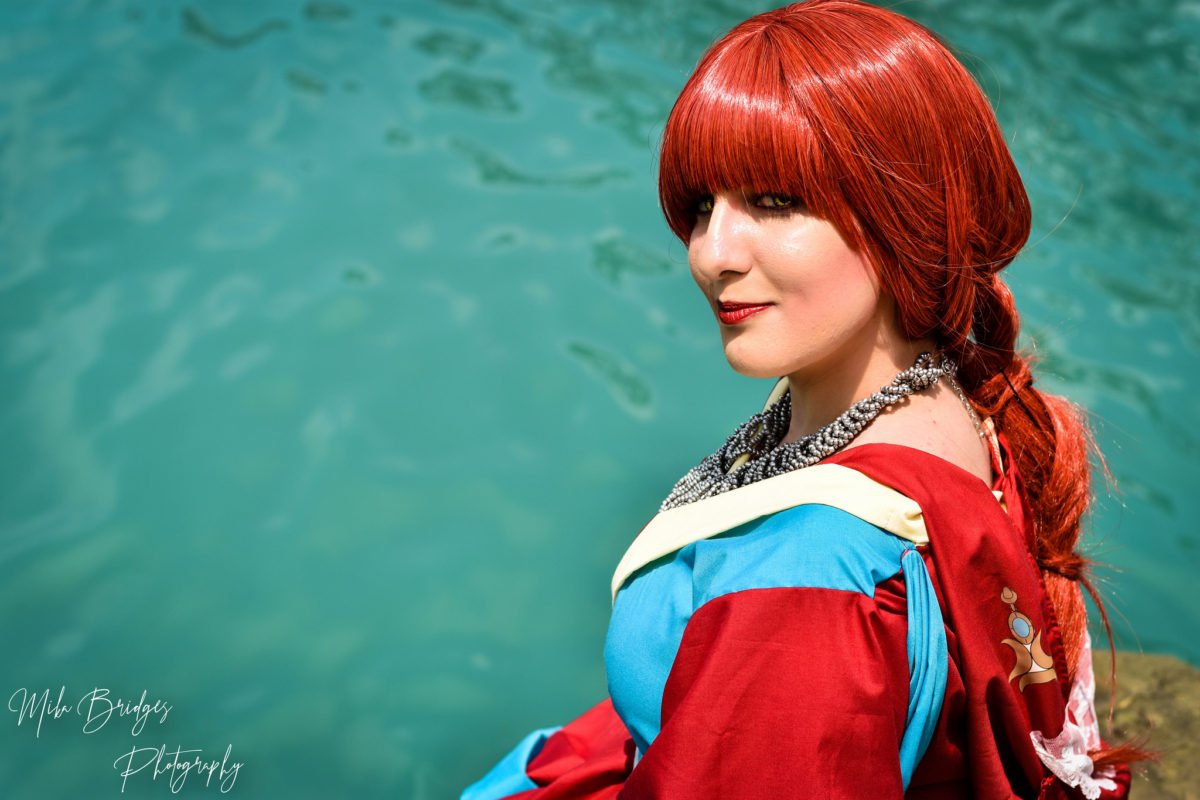 About this Mipha Gijinka Cosplay Wig
As mentioned before, the wig used in this photoshoot is the Nyx wig from Epic Cosplay. This is one of the most versatile long wig styles available. It measures 28" in length, with 6" bangs ready to trim to a desired length. A skin top at the hairline makes the part look especially realistic.
The reason the Nyx is the perfect wig for a Mipha gijinka cosplay is the length. Her character has a long and elegant tail where hair would be, so it makes sense to choose a long hairstyle for a gijinka design. This cosplayer mentioned how easy this wig is to braid – the styling options are endless. And the color, Apple Red Mix, is such a close match for Mipha there isn't any need for modification.
Posted by Epic Cosplay on

Posted on