The reclusive Phantom Thief appears – this Futaba Sakura cosplay features her iconic casual style.
A fan-favorite Persona 5 character, Futaba is first encountered as an agoraphobic shut-in with a tragic past. She takes refuge from the outside world by staying cooped up in her messy bedroom and refuses to attend school or participate in wider society. Her caretaker is the only person she sees person, preferring to socialize through internet message boards on her PC.
Meeting the Phantom Thieves marks a turning point. Her newfound friends help her get out of the house and explore public spaces, at which point she adopts the outfit seen in this Futaba Sakura cosplay. Her sarcastic and teasing humor finally has a chance to shine. But some things never change – she remains tech obsessed, afraid of strangers, and never takes off those big headphones.
You can find links to the photographer and cosplayer below. Under the photos, we cover a few details about the Futaba Sakura cosplay wig styled from an Epic Cosplay base.
Name: @paradiigmshift
Photos by: Tobious Photography (@tobiousphotos)
Costume: Futaba
EpicCosplay Wig:  Persephone in Autumn Orange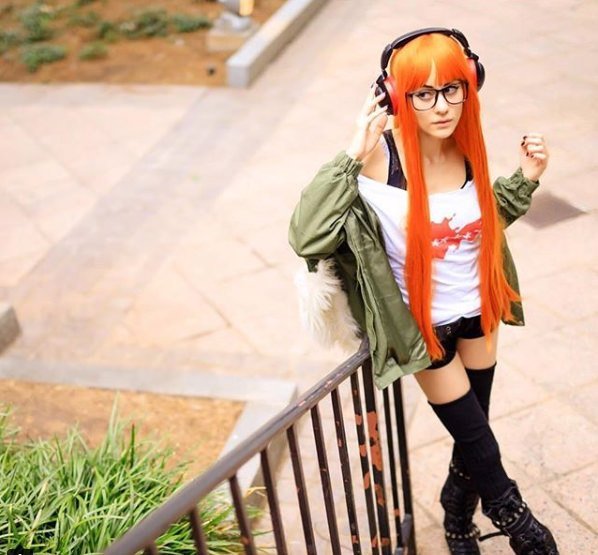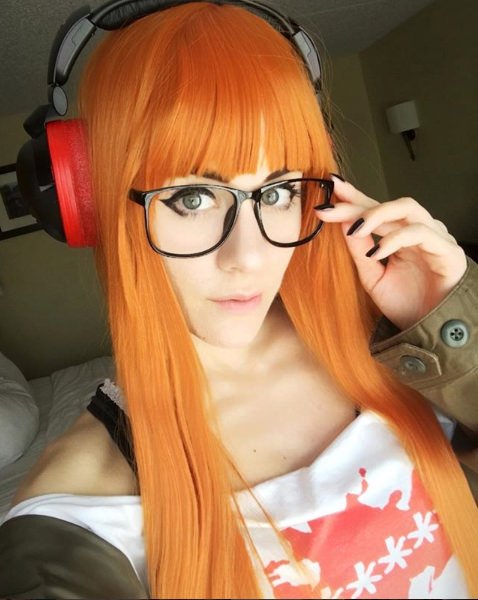 About this Futaba Sakura Cosplay Wig
This costume uses the Persephone wig from Epic Cosplay. It measures at 40" in length – long enough to reach to the mid or lower back on many wearers, reaching almost the waist on this cosplayer. The color is Autumn Orange, a fantastic match for Futaba's bright neon locks.
Because the character wears her hair long and straight, it was almost perfect for this Futaba Sakura cosplay right out of the package. However, it did need a little trim. The beautiful Persephone wig comes with bangs that hang at 5" in length but were trimmed into a blunt fringe to fit the character.
Persephone is a great wig style for long straight styles like this. But it does withstand heat treatment up to 410 degrees if you wanted to create curls or waves.
Posted by Epic Cosplay on

Posted on