This isn't your average All Might cosplay. Miryoku Cosplay describes this look as Gogo All Might, a cool feminine take on the classic costume the My Hero Academia character wears in his powered-up hero form.
Name: Miryoku Cosplay (@miryokucosplay)
Photos by: @nude_carbon_studios
Costume: All Might (fem)
EpicCosplay Wig: Hecate in Autumn Gold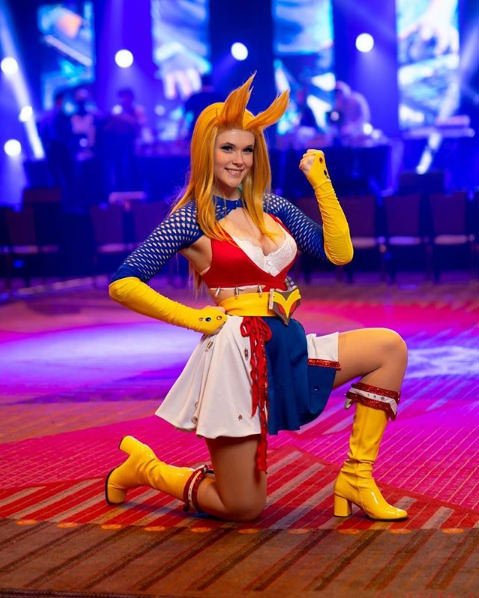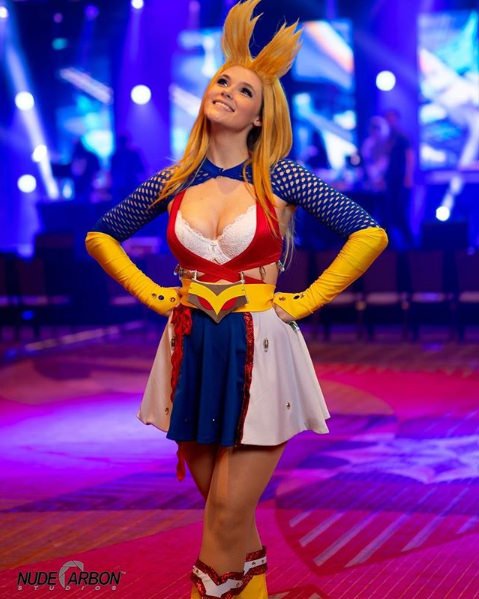 Behind the All Might Cosplay Wig Style
The wig is styled from the Hecate model available from Epic Cosplay. Hecate is a long wig with varied layers. The shortest layers measure at 17" and the longest layers reach all the way to 28" in length. The character has medium-length hair, but flowing locks give this genderbend All Might cosplay a more feminine touch.
One of the hero's most distinctive features are his tall spiky bangs, which stick straight up from his forehead. Thanks to the lace front design of the Hecate, the bangs were styled to stand up while maintaining a natural-looking hairline.
The color – Autumn Gold – is a great choice for this All Might cosplay. This wig is also available in several other shades of blonde including Natural, Platinum, and Butterscotch. You can find information about styling and caring for this wig on Hecate product page here on Epic Cosplay.
The All Might Cosplay Outfit
In the My Hero Academia anime series, the costume that Toshinori Yagi wears in this powered-up All Might form is a skin-tight bodysuit. This unique All Might cosplay takes a different approach with a skirt and top look.
Despite the difference in form, this All Might Cosplay remains recognizable. The skirt features white on the sides and blue in the middle to match the waist area of the original. The open top closely matches the color theme as well. Accessories like the belt, boots, and gloves mimic the style that All Might wears to complete the look.
Are you interested in creating your own All Might cosplay wig? This video tutorial from Epic Cosplay features instructions for crafting your own, this time with the Keto wig in Butterscotch Blonde.
Posted by Epic Cosplay on

Posted on