Tina sent us her Ramona Flowers cosplay for our Show Us Your Moves contest! She's a new cosplayer looking to delve further into the wonderful world of cosplay! She utilized our Chronos wig in fuchsia purple as a base and styled it a bit to achieve the look that she was looking for. Look below for pictures and her story below!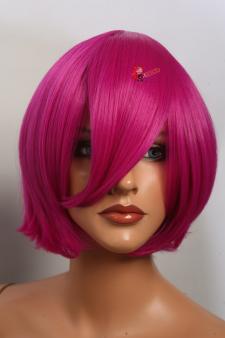 Hello,
I'd like to submit my photo for the gift certificate contest. I am a  very new cosplayer. I started in 2011 when my friends as me to join their already existing Steampunk X-men group at Dragon*Con. They had won Best in Show the year before but wanted a really big group for the 2011 parade. I picked Jubilee because without a wig, I already look like her. It's one of my favorite cosplays. It really came together well, but I was always afraid to try wigs. I decided to try a wig for the first time to cosplay Rose Tyler with a friend. I hand dyed the roots of that blonde wig myself. What was I thinking?! It looks great though. I also cosplay Amy Pond.
For this submission, I chose to cosplay Ramona Flowers from Scott Pilgrim vs. The World comic book series. This is my very first attempt at any cutting or styling of a wig. I did this just as a Halloween costume for parties in the area, not conventions or anything. I just didn't want to pull out a cosplay I had already done. I owed nearly everything already except the purse, which was handmade (not by me). I purchased the Chronos 14″ wig in Fuschia Purple because it was the closest to the shape that I wanted for this hairstyle. I cut the bangs into the wig and kept 2 longer straightened pieces to frame the face. In the back I pinned up the top layers of hair and used foam curlers to create volume throughout. I used my fingers to loosen the curls and let the top layer fall straight down while hairspraying it. It created a nice full look without looking curled. I wore this wig to 3 parties in 2 days and then again 3 days later on Halloween without restyling and it held up the entire time. Since I was cosplaying Ramona, I switched up the clothing a bit each time I wore it. I decided to make this costume part of my regular convention rotation since it was such a huge hit. I wore the costume to a local drag club on Halloween and some of my favorite Drag Queens told me how impressed they were with the wig styling and they loved how it looked on me. I can't wait to purchase Ramona's other colors so that I can really cosplay her to the fullest. The wig was by far the hardest part for me, but it was so fun to work with. This is my first Epic Cosplay wig and I love how great it fit my head, which is pretty small. The hair feels so nice and doesn't have a weird wig smell. I learned about your site from Lizzy during her panel at Costume Con. Her tutorials were great also. I'm so proud of how this entire look came together. Thank you so much.
Sincerely,
Tina Worley
Posted by Epic Cosplay on

Posted on