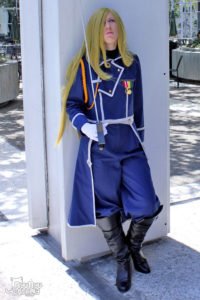 Check out Nyu Nyu Cosplay's Epic submission with her Major General Olivier Armstrong cosplay! She used our Persephone wig in Honey Blonde pictured below! Read on below that to see her awesome story!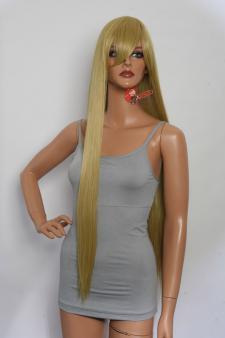 Hello! I'm NyuNyu, and have been cosplaying since 2003 – almost ten years! When I first began cosplaying, we did not have the wide variety and availability of wigs we have today. I am so excited that I can buy wigs in so many styles, colors, and now even heat resistant wigs, in the states, for affordable prices. EpicCosplay is my go-to place for wigs! I like that the wig fiber is soft, and the wigs are very full. They can last through multiple conventions with minimal care and photograph well- not too shiny or too dull. The variety in colors is wonderful, as well.
Character: Major General Olivier Armstrong
Series: Fullmetal Alchemist: Brotherhood
I chose to cosplay Olivier because I love the Brotherhood series, and she is one awesome butt kicking female! I also love the look of military uniforms.
The wig is a Honey Blonde 36″ long straight wig. This was a great yellow-y blonde color, and the only good wig I could find in this length without bangs! I generally dislike wearing such long wigs, but despite being so long and thick, it untangles easily at the end of the day. I really recommend it for long haired characters. I used lots of hairspray, large clips, and a blowdryer to set the part in the bangs covering one eye. I did use the hot water pouring method to make sure the wig was extra straight in the back. Then for the front curlie cues, I took those sections into curlers, placed them in hot water, and let them dry in that shape. Then I set them with more hairspray. I also made my own costume, though the sword was a gift.
Some notes on the rest of the costume – I made the black undershirt from spandex based on a T-shirt I had. The jacket was the most difficult part, all drafted from scratch, sewed from navy blue twill, fully lined, and trimmed in grey bias tape. The gold cord and white gloves came from a parade store. The pants have a zipper fly and elastic at the bottom of the legs. The boots are modified riding boots from Ebay.The sword was a gift!
My favorite part about cosplay is a tie between the creativity and excitement in creating the costumes, or meeting mutual fans!
Posted by Epic Cosplay on

Posted on