Hey!  We have another entry for Show Us Your Moves!  This time it's Heather as Seishirou Kirishiki from the anime Shiki!  She used two wigs in her cosplay, our Chronos Wig in Ice Blue for her wig and Nyx Wig in Ice Blue for her hairpiece!  Read on to read more about herself and her cosplay!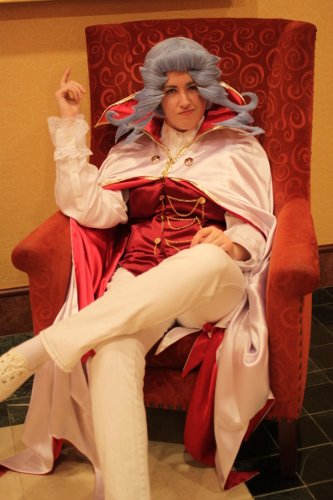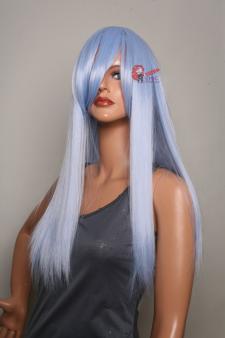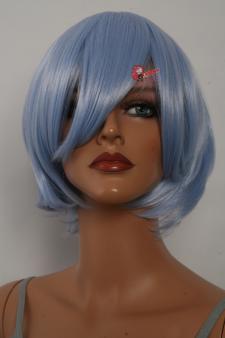 Photos by Cam Sorrel
I've always liked a challenge and Mr. Kirishiki's hair was definitely that since it didn't exactly obey the rules of gravity. The base wig used was a 14″ Chronos in Ice Blue and the front hairpiece was a de/re-constructed 28″ Nyx in Ice Blue. In order to defy gravity, the hairpiece was made out of baby blue fleece packed with stuffing and a dozen wire inserts then covered using the wefts from the deconstructed wig using a low-setting hot glue gun and 2/3 of an entire can of hairspray to hold everything in place. Then it was just carefully hand sewn to the front of the Chronos wig and it was good to go!
As for the character himself, he's sort of a wannabe-vampire eccentric so it was definitely fun getting to strut around being this pompous and overly flamboyant character. Lots of satin was involved for the giant cape and the vest as well as a lot of lace and frills (which aren't really visible under the cape) on the shirt.
– What got you into cosplay?
I originally got into cosplay after attending a couple of conventions and being amazed by all of the cosplayers. I have always been someone who goes all out on Hallowe'en so this gave me an excuse to make even more costumes!
– How long have you been cosplaying?
I've actually only been cosplay for about a year-year and a half. Most of my first cosplayers were comprised of heavily altering thrift store finds but ever since I got a brand new sewing machine I've been making most things from scratch.
– Were there any particular reasons you selected this character?
I just love cosplaying eccentric, quasi-evil characters. They're fun! Plus I just loved Mr. Kirishiki's character design.
– What would you consider the most difficult part of this costume?
Definitely the hair.
– What cosplay would you like to do in the future?
I would really like to try my hand at making armor and cosplay Gilgamesh from Fate/Zero.
– What's your favorite part about cosplaying?
I would have to say making other people happy is my favorite part. I love when people tell me how excited they are to see someone cosplaying one of their favorite characters and seeing how happy they are. Plus it's a great way to make fandom friends!
– What do you life about our wig?
I love how the longer wig didn't tangle when I was deconstructing it for the hair piece because that made it so much easier to lay things out and get everything in place. I also love how the wig is fairly heat resistant so I could use hot glue and not have to worry about it coming out looking like a frizzled melted mess.
Posted by Epic Cosplay on

Posted on