Gunpla Lady showcases a fan favorite My Hero Academia villain with this battle-ready Himiko Toga cosplay.
The cheerfully sadistic Toga is part of an elite group of new recruits to the League of Villains, known as the Vanguard Action Squad. Although these antagonists try their best to thwart the heroes over so many story arcs, each is appealing in their own way.
Toga's terrifying Transform Quirk lets her mimic the appearance of another living being by ingesting their blood. Thankfully, this Himiko Toga cosplay didn't take any bloodshed – just costuming skill and a little wig magic.
Name: Gunpla Lady (@gunplaladycosplay)
Photos by: Vaughn Photography Studio, Square Noodles
Costume: Himiko Toga
EpicCosplay Wig:  Bun Set in Natural Blonde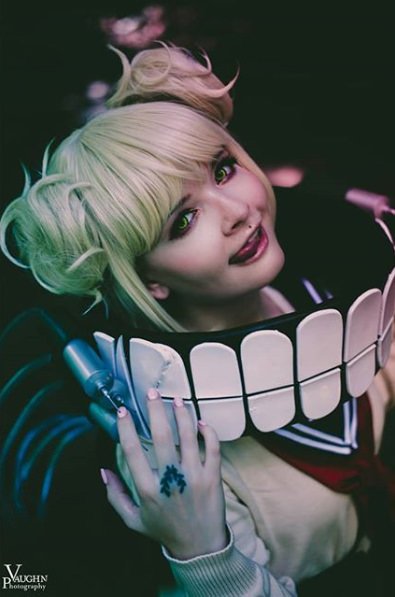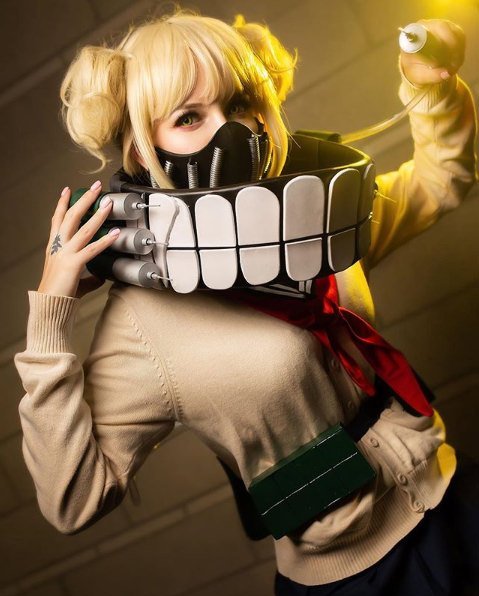 About the Costume
Dramatic accessories ensure this costume captures the sinister appeal of the character. The large tooth-patterned scarf, the blood-sucking syringes… all the gear that Toga wears when she's ready to cause some trouble.
One of the coolest things about this Himiko Toga cosplay is how versatile this outfit can be. Take away the battle gear pieces and it becomes Toga's everyday attire. After a long day of photoshoots, the everyday clothes work as their own comfy casual cosplay.
Creating the Himiko Toga Cosplay Wig
The wig uses the Bun Set in Natural Blonde from Epic Cosplay. These convenient buns are 3 inches in diameter and 2 inches tall, with lots of thick fibers to style.
With holding product and a careful touch, the neat buns took on the trademark messy look Toga wears. And the result is awesome!
If you want to try this character on your own, the Epic Cosplay YouTube page has a good Himiko Toga wig tutorial. The video tutorial builds the buns from the wig itself instead of the clips.
In the end, there are plenty of ways to achieve perfect pigtail buns for a Himiko Toga cosplay. But these photos are definitely a great place to look for inspiration!
Posted by Epic Cosplay on

Posted on