What an enchanting Blue Diamond cosplay! Modeled by cosplayer Sydney Ralston, this Steven Universe character makes a dramatic statement with a catwalk-worthy ensemble. First, Sydney Ralston has provided a bit of information about the background behind this cosplay below. Then, keep reading to learn about the Nyx wig from EpicCosplay and the features that made it such a great base for this stunning style.
EpicCosplay Wig: Nyx in Classic White for Blue Diamond cosplay from Steven Universe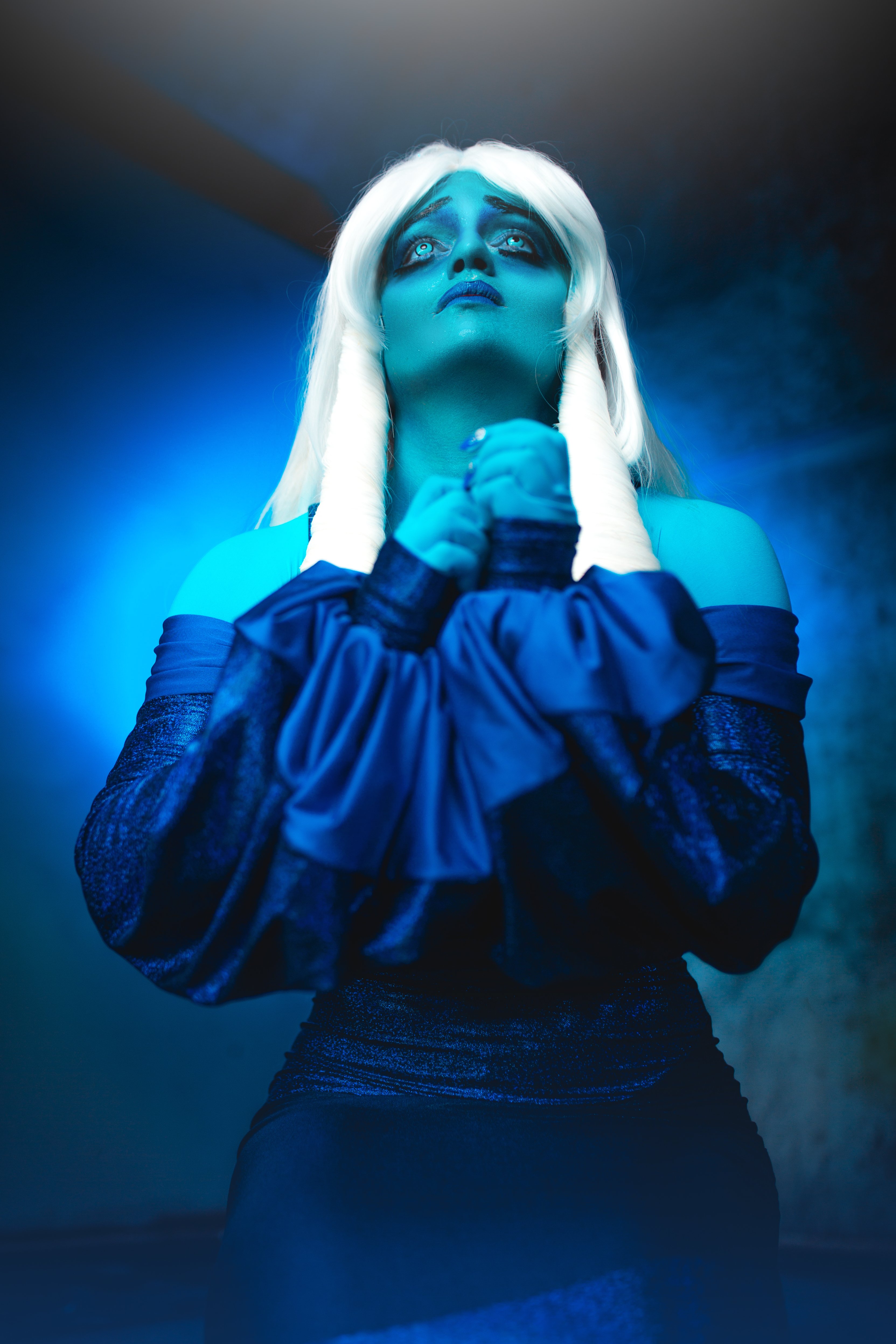 Wig: 1 NYX in Classic White, Two packs of long wefts in Classic White
Character: Blue Diamond
Series: Steven Universe
Photo by: @squarenoodles
Dress by: @holicmodedesign
Convention: Los Angeles Comic Con 2018
Inspiration: Space, David Bowie's Pierrot Persona
Behind the Style: Blue Diamond Cosplay Wig
Featured cosplayer Sydney Ralston used the Nyx wig from EpicCosplay as a base for this style. Nyx is a long and straight wig, measuring at 28 inches at its longest with bangs at 6 inches. This leaves plenty of room for custom cuts. When left long, the fibers resist tangles to ensure a neater look even throughout the most rigorous photoshoots.
As mentioned above, this Blue Diamond cosplay wig style made smart use of weft extensions. EpicCosplay offers individual weft extensions in a variety of lengths and in a range of popular wig colors. Weft extensions are easy to sew into an existing wig or attach to accessories. If you are looking for something more temporary, EpicCosplay also offers clip-in extensions for easy modifications.
The versatile Nyx style is also available in a variety of useful colors right from the package. Finally, check out the product listing page to see which colors are available. This admirable Blue Diamond cosplay used the Classic White color. This is a great starting point for many characters – EpicCosplay wigs are compatible with a variety of dye techniques, ensuring that any color base can certainly become a picture perfect match.
Posted by Epic Cosplay on

Posted on