Jody submitted an entry featuring her Naoto cosplay from Persona 4! She used our  Apollo Wig in Blue Black Fusion to complete her look! Check out her entry below!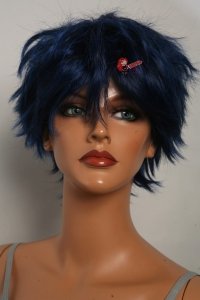 – What got you into cosplay?
I began cosplaying a few years ago, because I thought it looked like a lot of fun. I dragged a friend of mine to the Cherry Blossom festival in DC- it was a lot of fun, but looking back, my costume wasn't very good at all. At least I know I've improved!
– How long have you been cosplaying?
I've been cosplaying since I was 13, three years ago. My first cosplay was Miki, one of Amu's Guardian Characters, from Shugo Chara!
– Were there any particular reasons you selected this character?
My friend actually told me to cosplay Naoto because he thought I was a lot like her- he was right! I've always been angry when people underestimate my intelligence or strength just because I'm a girl, so I find a lot of opportunity in cosplaying as boys. When I realized that Naoto crossdressed so she could win the respect that she truly deserved, it really struck a chord with me. We also have a lot in common physically- masculine body shapes, for instance. We're both also vertically challenged, and love the color blue, which made this cosplay fairly simple for me!
– What would you consider the most difficult part of this costume?
Definitely the jacket- especially the piping along the edges. I ended up having to sew and re-sew it several times before I got it the way that I liked! I'm a perfectionist that way. The buttons were also a pain to find.
– What cosplay would you like to do in the future?
Currently, I'm planning on cosplaying as Tomix the Soulweaver from DragonFable. I've already got the white wig (epiccosplay, of course. I actually bought it before the blue one!), but the leather longcoat should be a bit of a challenge, but I don't think it's anything I can't handle.
– What's your favorite part about cosplaying?
Definitely the joy of being recognized. I've walked around conventions and not been recognized by anyone at all- it really makes you feel like the cosplay wasn't worth the time. When I cosplayed as Naoto, though, every few minutes another person was pulling me over to get a picture. That's why it was one of my favorite cosplays to put together!
-What do you like about our wig?
Aside from the fact that it's blue, and blue is awesome, I really like the way that people sometimes mistake it for my real hair (my hair, normally, is a very similar style- it's just black). It's also brushable, and essentially came in the right style already, save for a tiny bit I had to trim off in the front for Naoto's slight forelock. It's also washable, and doesn't itch.
Overall, I'm really happy with the way that the cosplay came out, and it's certainly one of the best that I've done so far. Naoto Shirogane is a wonderful as both a character and a role, and I'm glad that I had the chance to portray her through cosplay.
Posted by Epic Cosplay on

Posted on